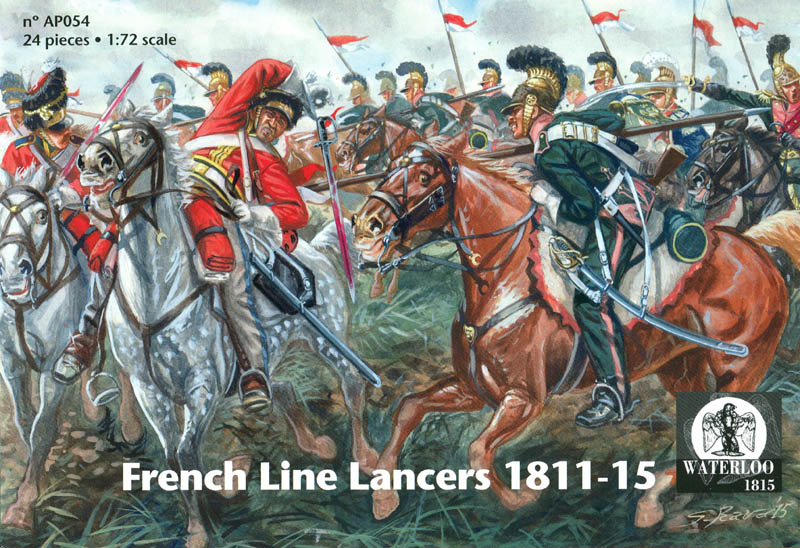 Guiseppe Rava

box cover

illustration
Firstly, Happy New Year to you all!
Now I've got the pleasantries out of the way, let me gush about my new purchase, Waterloo 1815's mew set of French Lancers. They are very, very nice! Almost as nice as Franznap's lancers (but not quite) and certainly will complement them very well.
The figures are multi-part with the arms and lances coming separate, which allows for some nice poses. As with all Waterloo 1815 products, both riders and horses are anatomically proportionate, and minor details spoil the overall lovely production values. In this case, the sheep-skin shabraque is modelled with a curious elongated flap. Again, the contents of the box don't reflect the accurate box artwork. Oh well, at least it's a fairly minor grumble!
Another minor grumble is the plastic they're made of. I'm used to the relatively rubbery
To read a full review and see the figures themselves, visit Plastic Soldier Review
here
So, what am I going to do with these figures, I hear you ask? Well, dear reader, I haven't decided whether I shall boost the numbers of my French lancers or embark on a little conversion project to create Neapolitan Chevau-Leger while I wait on Franznap's products to reach the shops. I'll probably do both; fill out my existing French lancers to an even eight, while doing a little Frankenstein job on the heads of the rest.
After the head swaps, I'll be aiming to produce something like this:
I still haven't set up a painting space in the new house, but this new project will give me the impetus I need to claim a corner just for me a my little plastic men!